---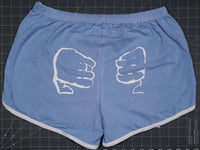 Sale
Inspiring Charlie XCX's moniker, Goatse.cx remains one of the most iconic and influential images online. We have taken the inspiration to make some Goatse shorts of our own. 

These 95% cotton dolphin shorts are ultra comfortable and ultra stylish. Get them in a random color for cheap, or check out our custom shorts to pick your ideal color. 
Designed and printed in Philadelphia.
 **All in-house booty shorts come with a free Shirt Bimbo sticker**
**Choose a free patch with every two pairs of shorts**
Size Guide: (Note: low end measurements on guide are from hand-done measurements of flat shorts. a regular user is a 5'10" 170lb woman and wears a medium.)
S
M
L
XL
2XL
Waist Relaxed
24-28
26-30
27.5-31.5
29-33
30.75-34.75
Hips
36.6
37.8
39.4
41
42.5
Length
12.75
13
13.6
14.2
14.75
Psychic damage and spiritual transcendence
I have never written a review for anything before, but today that changes. These goatse booty shorts have become a full circle moment since I came across the original image when I was way too young to use the internet in the early 2000s. Today, I am the ring-bearer of chaos, as all of my friends have left me since they saw my shorts. They fear the power in which these shorts hold - these are not for everyone. I wield them with a sense of pride - I have been christened as one of few of God's strongest internet warriors, all thanks to Shirt Bimbo.
Also the shorts are very stretchy and are made of very soft material. Easily the comfiest pants I now own.
Very comfy!!!
Super cute and comfy. This is my 4th pair of shorts bimbo and I can't wait to buy more!