---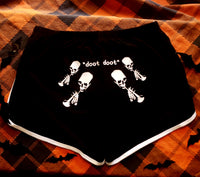 Sale
Does that thing doot doot? Like a skeleton with a trumpet? Doot doot skeleton? Aaaahhhhhhhhhh.
These 95% cotton dolphin shorts are ultra comfortable and ultra stylish. Get them in a random color for cheap, or check out our custom shorts to pick your ideal color. 
Designed and printed in Philadelphia.
Size Guide: (Note: low end measurements on guide are from hand-done measurements of flat shorts. a regular user is a 5'10" 170lb woman and wears a medium.)
S
M
L
XL
2XL
3XL
Waist Relaxed
24-28
26-30
27.5-31.5
29-33
30.75-34.75
32.2-36.2
Hips
36.6
37.8
39.4
41
42.5
44
Length
12.75
13
13.6
14.2
14.75
15.4
 **All in-house booty shorts come with a free Shirt Bimbo sticker**